WHAT'S FUNCTIONAL NUTRITION?
The good news is you're not the first person to wonder about Functional Nutrition and how we work.
Our bodies are built with several physiological systems in place: our nervous system, cardiovascular, musculoskeletal, even magnetic pathways. When our systems are out of alignment, our bodies cannot operate with optimal physiological function. This is when our bodies start to send signals to alert us that our systems are out of alignment. These signals can be a variety of markers, including fatigue, sleepiness, accelerated heart rate, stomach pain, and countless others.
Functional Nutrition listens to your body's signals and uses the power of nutrition to restore your body's systems into the best possible alignment. Using Functional Nutrition is not a new practice. This approach to healthcare was first used thousands of years ago. With the modern advances of technology and medical research, we can now use Functional Nutrition to its full potential to help you feel your best through personalised, nutrition based healthcare.
Health Conditions and Symptoms Our Clinic Treats

Some of the most common conditions we can help you with:
Common Myths and Misconceptions About Functional Nutrition

Many of our new clients don't know what functional nutrition is. Many of them connect with our team because their good friend recommended our clinic. There are many mis- conceptions, even myths, about functional nutrition. Here are just a few of the ones we hear on a regular basis:
MYTH: Functional nutrition and functional medicine is woo-woo. There's no science. Unless you're in the medical system, you're not going to get better.
FACT: Our practice and every service we offer is built from medical and nutritional research designed for you to have optimal health. Every test we conduct is grounded in decades of proven medical and nutritional practices to treat all of you as a person. We have countless testimonies of how our clients lives have been transformed from our practises.
MYTH: We have no way of healing ourselves.
FACT:  Our bodies have an innate intelligence that we need to tune into as adults. As babies our natural instinct was to spit out food that wasn't  healthy for us. When our bodies are given the right ingredients and tools, we can naturally move from survival mode to truly functioning in the right mode for optimal health. In case you haven't read it already, check out Shelley's story to learn about her amazing transformation because of functional nutrition. 
MYTH: There's too much information out there that it's impossible to find what's true and right for me.
FACT: A majority of our clients come to our clinic after trying all sorts of diets. These diets might have worked for a week or two, but there's a reason why they're still not feeling right. While there is plenty of information about health and nutrition, how do you know what your unique body needs to function at its best? We have to treat our health as individuals. Our clinic team can work with you to help you listen to your body again. We take the latest research and information from medical studies and make it individualised to your unique body.  
Our Policies, Guarantees and Our Commitment to you!
Availability on the Online Store: If a supplement is displayed on our online store, it indicates that we have it in stock and will ship it within 48 hours.
I can't find my favourite supplement? It could be out of stock. Stock quantities are regularly updated, please check again in a few days.
My order hasn't arrived: Firstly please track your item on NZ post website. https://www.nzpost.co.nz/tools/tracking. When you purchase an item from us you will automatically receive a tracking number from. us. The tracking number will always look like this LVXXX XXX XXXNZ. If it hasn't arrived please contact New Zealand Post on 0800 501 501 to check on your missing parcel.
I didn't receive an email with the tracking number. If you opted out of our mailing list, you won't receive any emails from us. This includes the tracking email. Please follow these steps to update your communication preferences in our appointment and purchasing software Mindbody. Please update your customer profile preferences (in Mindbody) then you will receive your tracking emails. If you haven't received any emails and your in one of our Detox or Wellness programs, you also need to change and opt in to receive emails, as this is part of the program.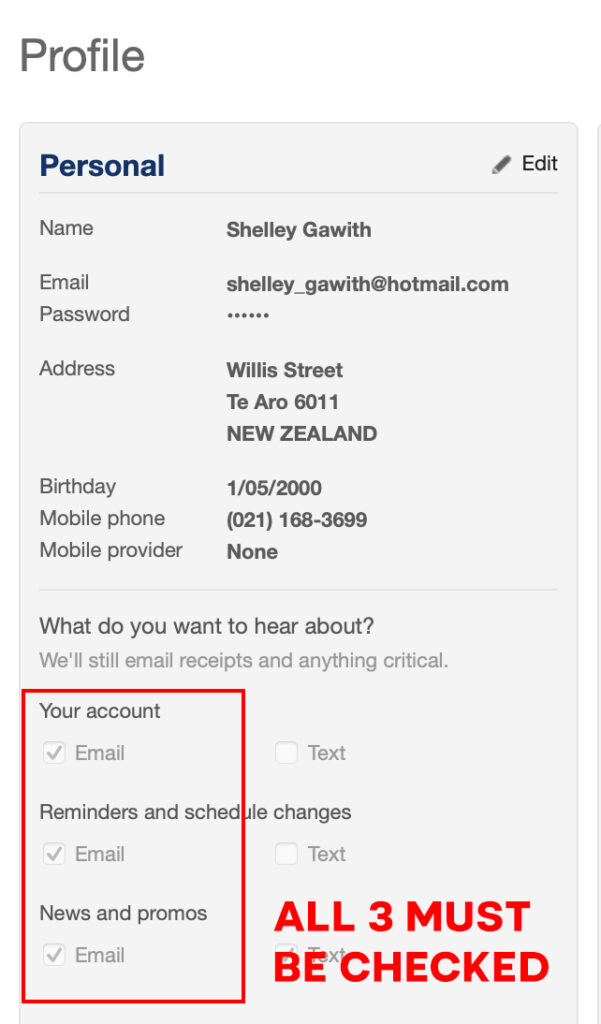 How long will my order take to get to me: We will make sure we have picked and packed your order and have it with NZ post within 48 hours.
Tracking Activation: Your tracking number will be registered once NZ Post has scanned it in with a driver. This process may take sometime ranging from a couple of hours to worse case a couple of days.
Delivery Date: Once New Zealand Post confirms the tracking number with their driver, they will provide you with a delivery date for your package, that you can track on the NZ Post website.
Missing Order: If your order has not arrived within 5 days please contact New Zealand Post. Their website is https://www.nzpost.co.nz/tools/tracking. The tracking number will always look like this LVXXX XXX XXXNZ. (Please do not contact the office as we can not hurry NZ Post along, once it has left our building it is the responsibility of NZ Post).
My order was broken or damaged: Please email the office a photo of what has happened so we can send you out a replacement or refund your order. Please email us at [email protected]
My supplement never came: Once you have tracked and traced it with NZ Post and if they can't provide any details around your order. Please let the office know after 7 days of you receiving your tracking number and we will confirm that we also can't locate the order, we will offer you a refund or resend your order, whatever you would prefer.
Overseas Orders: For any orders shipped outside of New Zealand the purchaser will be responsible for all customs import duties and any associated taxes.
Currency: All prices stated on the current website are denominated and charged in New Zealand Dollars (NZD)
If you need to cancel your appointment or make amendments, please provide at least 48 hours notice prior to the appointment start time. Less than 24 hours notice will result in a charge equal to 50% of the scheduled appointments. Clients must notify the clinic of the intention to cancel or amend a booking by email or phone during office hours 9-4pm Monday- Friday.
If you are a no-show, where you do not show up for your appointment with no notification, you will be required to pay 100% of the scheduled appointments you were booked for.
Initial appointments will require a credit card to secure the booking.
To allow un-pressured, quality time for your appointment, and to ensure we are consistently on time, our policy is that we may need to reschedule clients who are more than 10 minutes late.
We recommend that you arrive on zoom a couple of minutes early. So you can take a few deep breaths and be prepared for your health experience.
Our Online shop 3rd Parties (Mindbody and Ezidebit):
All transactions on the website use industry best-practice encryption and security including SSL/TLS. When using the online store on Mindbody, we do not store cardholder data for longer than is necessary to process the payment through our payment gateway, and these details are never stored in our database at any time. If you choose to store your credit card details for future purchases, you have given permission for this to happen. SGFN staff, contractors and developers have no access at any time, under any circumstances to any card data entered into the website.
The two payment applications we use EziDebit and Mindbody are PCI Compliant.
If you would like more details, here are Mindbody's policies: https://company.mindbodyonline.com/legal/privacy-policy
Ezidebit & Mindbody are Payment Card Industry – Data Security Standards (PCI-DSS)  Level 1.  On a global standard, this is the highest level of security a business can have when handling consumer payment information.
Ezidebits Privacy Policy: https://www.ezidebit.com/en-au/privacy-statement
Shelley Gawith Functional Nutrition respects your privacy. We are particularly sensitive to privacy issues on the Internet, including our digital applications and therefore we provide this Privacy Policy so you know about our online information practices and understand how we treat the information we receive about you from the Internet.
By using our site, you consent to our privacy policy.
We collect solicited personal information from you when you register on our site, subscribe to our newsletter, purchase an item from us, respond to a survey or fill out a form. When interacting with our website, where appropriate, you may be asked to enter your: name, e-mail address, phone number and other personal information where it is reasonably necessary for one or more of the business's functions or activities.
To personalise your experience (your information helps us to better respond to your individual needs).
To address feedback (we may contact you in response to your feedback submitted through our surveys)
To send periodic emails. The email address you provide may be used to send you information and updates pertaining to your order, in addition to receiving occasional company news, updates, related product or service information.
All personal information you provide to us is stored in our secure database. Reasonable steps have been implemented in order to protect your personal information from interference, misuse, loss, unauthorised access, modification, and disclosure when you enter, submit, or access your personal information.
We do not sell, trade, or otherwise transfer to outside parties your personal identifiable information.  We may also release your information when we believe release is appropriate to comply with the law, enforce our site policies, or protect ours or others rights, property, or safety.
We take all reasonable steps to ensure your personal details are up to date, correct, and complete. At any time, you have the right to:
Review the personal information you have supplied us
Request that your personal information may not be used to contact you
Request that your personal information be removed from any solicited list used by us
Request that your personal information be deleted from our records
To opt out of being contacted by us 
Occasionally, at our discretion, we may include or offer third party products or services on our website. These third party sites have separate and independent privacy policies. We therefore have no responsibility or liability for the content and activities of these linked sites. Nonetheless, we seek to protect the integrity of our site and welcome any feedback about these sites.
The services contained in this section enable SGFN to monitor and analyse web traffic and can be used to keep track of User behaviour. Google Analytics is a web analysis service provided by Google Inc. ("Google"). Google utilises the data collected to track and examine the use of this Application, to prepare reports on its activities and share them with other Google services. Google may use the Data collected to contextualise and personalise the ads of its own advertising network. Personal Data collected: Cookie and Usage Data. Place of processing: USA – Privacy Policy – Opt Out.
Opting Out and Unsubscribing
If at any time you would like to unsubscribe from receiving future emails, we include an unsubscribe link at the bottom of each email. You may also choose to contact us using the contact information provided under the section 'Contact'.
Your health is important but your happiness in my business as just as  important. I give my personal guarantee if anything doesn't quite go to plan, i'll do my upmost to rectify for you.
If you feel that you have not received the best service, we value your feedback. I am extremely grateful that you would take the time to give us this complaint in a formal or informal manner via a phone call or written in an email. I take these complaints and feedback very seriously and will always attend to it myself personally in a timely manner. We always want to strive to give you the best experience possible. Apologise in advance if this hasn't happened and I will want to rectify this in an appropriate fashion with the individual.
Please email directly   
Any information, statements and/or the provision of resources or products during SGFN events are not intended to diagnose, treat, cure or prevent any disease or health condition. They are not a substitute for proper medical advice, and must not be relied upon in this way. Always consult a qualified health practitioner for individualised advice before using any of the information or products provided at an event for yourself or your family or friends.
SGFN shall not be liable for any failure to comply with its obligations where the failure is caused by something outside its reasonable control. Such circumstances shall include, but not be limited to, weather conditions, fire, flood, hurricane, strike, quarantine, industrial dispute, war, hostilities, political unrest, riots, civil commotion, inevitable accidents, supervening legislation or any other circumstances amounting to force majeure.
Comments, feedback, testimonials
If you provide us with comments, feedback or testimonials, whether written, verbal or otherwise, you consent to us using this information and or likeness in our marketing collateral. Please note we will not identify you by name unless you have given us permission to do so. Should you wish to revoke any information you have provided us please advise us by contacting [email protected] and we will remove reference to your remarks in any future collateral.
The information contained in the website is provided for informational purposes only and is not meant to substitute for the advice provided by your doctor or other health care professional. You should not use the information available on or through the shelleygawith.com website for diagnosing or treating a health problem or disease. Information and statements regarding dietary supplements have not been evaluated by the Food and Drug Administration unless specifically stated.